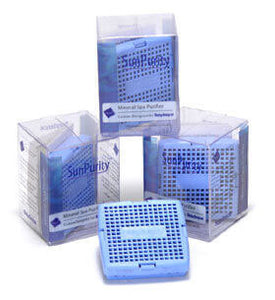 Forget about the chlorine or bromine for your spa. Use the SunPurity spa mineral purifier as a natural, chlorine and bromine alternative to keep your spa water exceptionally clear and feeling soft as silk. These SunPurity chlorine alternatives use natural, organic minerals to effectively purifying spa water with no chemical odor or feel.
Mineral purifier lasts for up to four months
Natural and effective chlorine alternative sanitizer
Organic minerals help keep spa water clear and feeling soft
Made by Nature2 to be compatible with Sundance® Spas
Availability: Usually ships within 1-2 business days
Sundance® is a trademark owned by its respective owner. There is no affiliation with the owner of the mark; the mark is used for identification purposes only and is not intended to indicate affiliation with or approval by the owner of the mark.